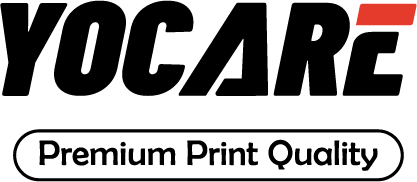 Yocare is one of the largest distributors of ink and toner cartridges in the United States. Our ink ventures began in a small New York City basement in 2007. For years since then, we have grown considerably and now consistently offer great services and affordable products. We have expanded our inventory to include over 70 different models for laser and inkjet printers, helping millions of people in the US & Canada by providing the best economical and environmental resources available. To many of our customers around the country we remain a trusted top of the line seller and manufacturer of ink and toner cartridges.
Purchasing our products provides you with great savings over expensive new OEM cartridges. In addition to saving money, you will receive a quality reliable product for all your printing needs. Our company motto is Reuse, Reduce, Recycle!
Yocare cartridges are methodically tested to ensure optimal performance throughout the life cycle of each cartridge. Each cartridge is cleaned, restored, re-filled, and tested to ensure that you can print trouble free. All cartridges are filled with superior quality Pigment or Dye based ink that has been formulated to provide crisp, clean, and clear prints. Additionally, cartridges are filled to optimal capacity to ensure the highest possible page yield. All Yocare products are covered by our 100% satisfaction guarantee and a 360 day purchase warranty.
Sunday,Monday,Tuesday,Wednesday,Thursday,Friday,Saturday
January,February,March,April,May,June,July,August,September,October,November,December
Not enough items available. Only [max] left.
Add to Wishlist
Browse Wishlist
Remove Wishlist